It's one of the most important meals of the year, so why not make your Christmas table setting extra special. Blow your guests away with these DIY painted Christmas napkins this year. Good news is these napkins are easy to create and make your table look super stylish. Here's how I made my DIY Christmas napkins…
Materials
White napkins (Amazon)
Fabric paint (Amazon)
Paint brush
Water

Ombre napkins
For the best results, wash and dry your napkins before you start to remove any excess chemicals that could effect the paint.
To create the metallic ombre napkins, start by lying one of your napkins out flat and placing some card underneath to protect your table. Brush the paint from the center outwards, creating a horizontal band of about 5 cm. Once you have painted all the way across the center, start on the second layer. In a separate pot, dilute the paint with some water and mix. Use this diluted paint to ombre out the paint expanding the band at the top and bottom, leaving the center solid.
Hint: Don't use too much water or it will run leaving a water mark.


Patterned napkins
To create the patterned napkins, lay out another napkin in the same way as before. Paint small brush strokes of gold paint starting from the middle and moving across horizontally. Create more strokes in the middle, reducing them as you work top to bottom to create an ombre look.
Once you are happy with your napkins, hang them up to dry for a few hours. To seal the paint, iron them on the reverse on a medium heat for a few minutes. This will soften the paint and allow you to wash the napkins after use.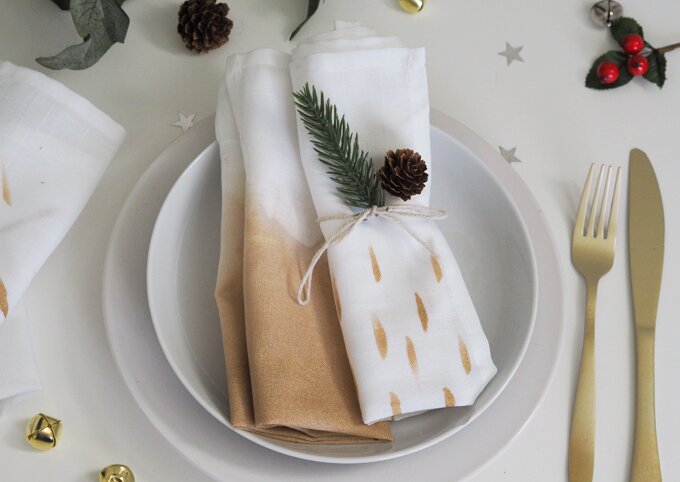 I love how stylish and elegant the napkins look now. Best bit is you can make each one unique and individual to suit your guests personality. To finish, I folded mine in half then rolled them up and tied them with string for a minimal rustic look.
What do you think?
Anna x
Pin for later?

Want more festive DIY ideas?
Snowball White Chocolate Profiteroles
This post contains affiliate links.
Save
Save
Save