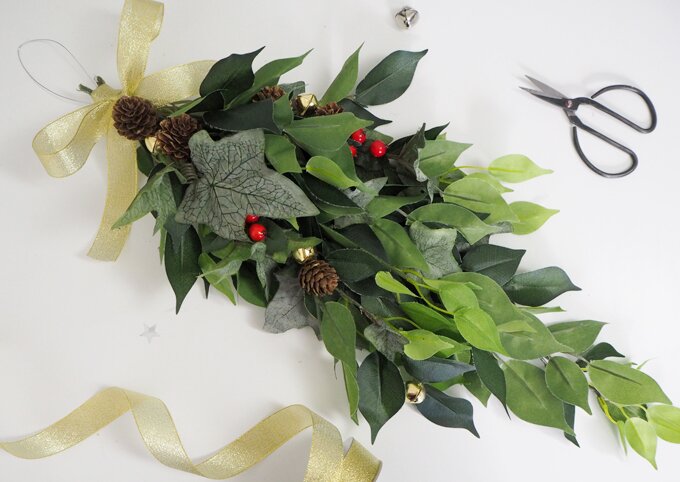 Deck the halls…
Wow, I can't believe it's been a whole week of creating festive DIY's already… For day 7 of my #MadeUpFestive challenge I thought I'd show you how I made this easy Christmas Door Hanger. I love the trend for alternative wreaths this year and a door hanger is a stylish but traditional take on it. I created mine using artificial leaves and accessories, but real foliage would look amazing too.
Materials
Faux leaves stems, (The Range)
Scissors
Hot glue gun (Amazon)
Craft wire, (The Range)
Ribbon
Pine cones, bells, berries etc (The Range)



To start, take one of the branches of foliage, and snip the stem to create two even parts. Using the hot glue gun, add these smaller branches to another full branch to bulk it out. I placed them on either side of the branch, gluing them together by the stem.
2. Build up your Christmas door hanger decoration by adding extra leaves from other stems. I snipped off a few ivy leaves from another garland I had and glued them on.
3. Add in other Christmas decorations such as pine cones, berries and bells among the leaves.

Finishing off
Once you're happy with how your Christmas door hanger is looking, it's time to finish it off. Use some flexible craft wire to secure the ends together and create a hook at the top. Wrap a length of ribbon around the top to disguise the wire and finish off with a bow.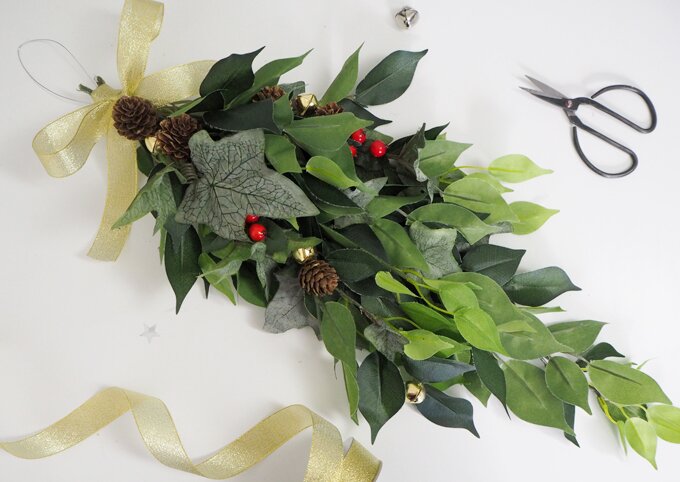 I really enjoyed this make, but that might have something to do with that fact it involved a glue gun… Blooming love that thing! Anyway, what will you be hanging on your door this Christmas?
I'd love to hear if you have made something similar, leave a comment below or message me on twitter or instagram.
Anna x

This post contains affiliate links.
Want more festive ideas?
Save
Save