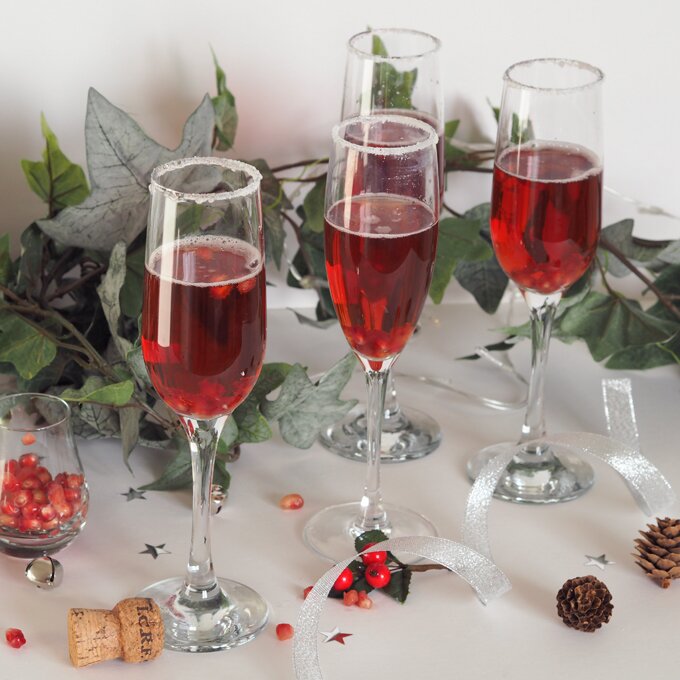 Cheers to the festive season…
Looking for an alternative drink to traditional mulled wine? Look no further. This warming Christmas cocktail makes the perfect toast for the festive season. Plus, it's super easy to make. Here's everything you need to make your own winter warming Christmas cocktail…
Ingredients – serves 4
Sloe Gin – 100ml
Prosecco – 350ml
Brandy – 50ml
Pomegranate seeds (to decorate)
Sugar (to decorate)
Ice


Festive frosting
To create a frosting around the rim of your glasses, start by sprinkling a thin layer of sugar onto a plate. I used caster sugar as the grains are much finer than granulated sugar, and will stick easier. Then use an ice cube and gently rub around the rim of your glass. Dip the glass into the sugar and give it a little twist to make sure the sugar coats the rim. Place the glasses in a freezer or fridge for a few hours before serving.


To make a Christmas Cocktail
Pour 100ml of sloe gin into a jug, followed by 350ml of prosecco. Add up-to 50ml of brandy to your liking for a warm kick to your Christmas cocktail. Pour into four cool glasses and serve with ice and pomegranate seeds.
If you want something a little more special to serve around the table this Christmas, this cocktail brings a festive twist to a celebratory glass of prosecco. The sloe give the drink it's seasonal colouring while the brandy warms everything up.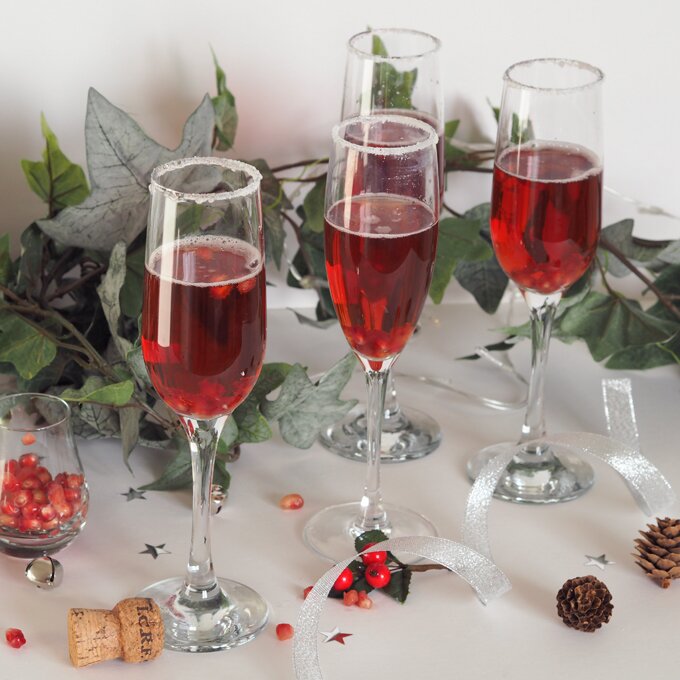 There you have it… All that's left to do is enjoy.
This is a great recipe to prepare and have cooling in the fridge for when your guests arrive. You can easily make larger batches by doubling up the recipe or making up a few pitchers to serve throughout the night. I personally love having a glass of this as a treat at weekends whilst snuggled up watching a Christmas film. What's your favourite Christmas film? I'd love to know. Leave me a comment below or message me on Instagram or Twitter.
Why not try making a non-alcoholic version of this cocktail too with cranberry juice, tonic and spices.
Anna x

Want to find more festive makes?
Make your own scented festive candles
How to make gingerbread biscuits
Save
Save
Save
Save