Not a fan of traditional Christmas pudding?
Me neither… So I thought I'd try something a little different for dessert this year. These white chocolate profiteroles are a delicious and festive alternative to a Christmas pud. They are easy to make and keep well in the fridge until you are ready to serve up.
Your guest will love these little snowball treats this party season, so pile 'em high and enjoy. Here's how you can make your own white chocolate profiteroles this Christmas…
Ingredients
Caster sugar – 2 tsp
Butter – 50g
Flour – 75g
Eggs – x2
Water – 150cm
For decorating
Double cream – 300ml
White chocolate – 200g
Icing sugar
Edible glitter, Amazon






To make the profiteroles
Pre-heat the oven to 200 degrees C.
In a saucepan, melt the butter, sugar and water and bring to the boil. Add this mixture to a food processor along with the flour and mix until combined. Allow the mixture to cool for ten minutes.
Meanwhile whisk the eggs together in a jug and slowly add to the food processor, mixing until the dough is white and creamy.
Using a tea spoon, scoop the mixture out onto a baking tray and bake for 15 minutes until the profiteroles are risen and golden. Allow the profiteroles to cool on a wire rack before decorating.






To decorate
Once cooled cut a hole in the side of each profiterole ready to fill with cream. Whip the double cream until thick. I did this in the food processor to save time. Spoon 1tsp of the cream into each profiterole.
Melt the white chocolate in a bowl over hot water. Carefully dip the top of each profiterole into the chocolate and place back on the wire rack to allow to cool. Sprinkle on extra icing sugar, glitter or snowflake decorations to complete the look. I found the profiteroles tasted better after a few hours chilling in the fridge.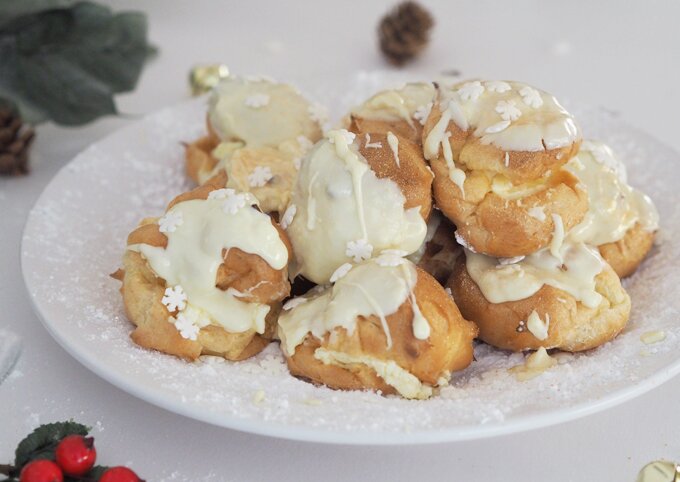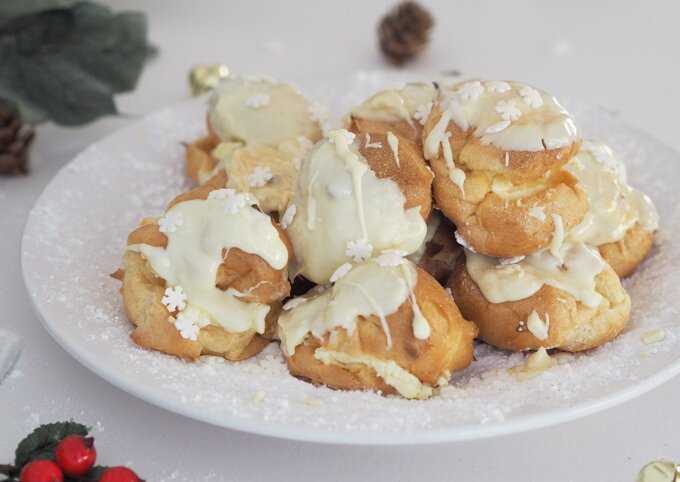 These little snowballs are the perfect size to nibble at a party and you can be sure they won't stick around long.
I was really impressed with how this recipe turned out. This was my first time making profiteroles and I was surprised at how easy they were to whip up. Not to mention they taste AMAZING, I'll definitely be making more over the festive season.
What do you think, I'd love to hear if you have tried making profiteroles too. Would you try using white chocolate for a festive twist on traditional profiteroles? Leave a comment below or chat to me over on Instagram or Twitter.
Anna x
Here's is a link to the original recipe I followed and adapted to make my profiteroles.

Want more festive inspiration?
Save
Save
Save
Save
Save