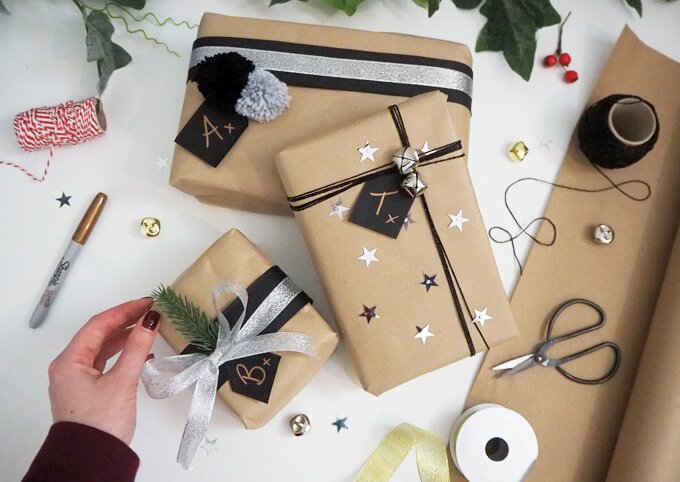 Hoorrahh!
We made it to the end of #MadeUpFestive! 12 DIY projects in 12 days, it's been a blast! To celebrate the end of my challenge, I'm sharing my favourite festive gift wrap ideas. Because after all that's the best part of Christmas, so let's get wrapping!
This Christmas I'm trying to reduce my impact on the environment by using recyclable brown paper over other non-recyclable wrapping papers. See how else I'm trying to be a little more sustainable this Christmas time.
Here's 3 festive gift wrap ideas to jazz up your brown paper presents in style…
Materials
Brown paper
Black card
Yarn & pom pom maker
Ribbon
Glue gun


Idea 1 – Pom Pom baubles
I love the idea of using pom poms as an alternative to a Christmas bow. For my first idea, I cut a strip of black card and wrapped it along the long edge of one of my presents. I put it off center slightly and added a length of ribbon over the top, securing both on the bottom with a bit of tape.
I added a couple of pom poms in minimal grey and black tones, securing them with a hot glue gun. If you want to see how I make pom poms (dead easy btw) check out this post.

Idea 2 – Star pattern
For my second idea, I decorated my brown paper with some silver star sequins from The Range. I stuck them down randomly across my present using a hot glue gun. But normal PVA glue would work just as well. For ribbon I used a metallic black thread, wrapped around my parcel a few times and secured with some tape. Lastly I added a few bells in the cross section of thread for a little added sparkle and festive cheer.

Idea 3 – Simple bow
My last idea is perfect for smaller presents. I added the black card band in the same way as idea 1, then made a large bow with ribbon in the center. The little tag, I made from a bit of black card and used a Sharpie marker in Bronze to write the initial on. I love adding little bits of foliage from the tree for a pop of colour to my presents too.




There you have it, three easy ways to decorate and jazz up your brown wrapping paper…
How do you decorate yours?
I hope you've enjoyed following my #MadeUpFestive challenge. If you missed any, click here to see all the posts from this year and last. I'd love to hear what our favourite DIY post of mine has been? Leave me a comment below or message me on Twitter or Instagram.
In the meantime… Merry Christmas guys!
Anna x
Pin for later?

You might also like:
How to have a more sustainable Christmas
Save
Save