Every girl wants princess hair, right?
I recently created three easy party looks for short hair so thought it was only right to show you some ideas for long hair too. When the lovely folks at Stranded International got in touch and asked me to try out one of their pieces, I couldn't wait to create some pretty looks for you guys.
I cut my hair short last year and although I love how easy it is to manage now, I do miss being able to style it the way I did when it was longer. Having the one piece means I can relive my long hair dreams easily without having to wait a year for it to grow!

I am using the 18 inch, heat resistant one piece clip for this tutorial, as it's perfect for creating quick and fun styles. I started by sectioning off my hair above my ears, then backcombed it at the roots before using the small clips to secure the piece in place.
The shade I chose was Sweetheart and love how naturally it blends with my normal hair. The straight piece has a beautiful, natural flick to the ends and the synthetic fibers means it can be styled with heat easily.
Keep reading to see what styles I created…
Look 1 | Crown Braid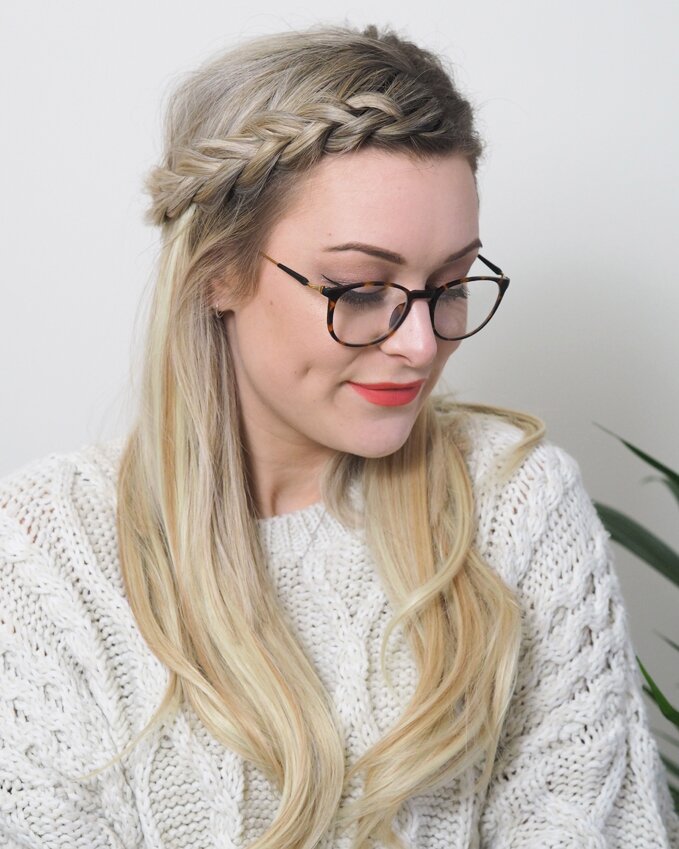 The first look I wanted to create was this easy braided crown. I love wearing a braid for work on days I just need to get my fringe out of my face, they only take a few minutes yet look really pretty and feminine.
Step 1 | I made a side parting in my hair, then started to french plait the front fringe section down and around my face. I stopped picking up sections just above my ear and continued plaiting the hair I had around to the back of my head.
Step 2 & 3 | I secured the plait with a hair grip around the back of my head before repeating the plait on the other side of my parting.
Step 4 | Once both plaits were meeting at the back I grabbed some hair from underneath where they joined and started to plait down the back of my head, keeping the grips in place to secure the braids. I tied it off with a bobble, (feel free to use a more suitable colour than I have…).
What do you think? I love this look with the hair piece in, as it makes the whole look a little more whimsical and romantic. I can imagine this being a great day to night look as it's perfect for keeping your hair in place all day.






Look 2 | Fish Tail Braid

I used to wear a fishtail braid a lot when my hair was longer, it's a fun alternative to a normal plait and I've really missed styling it like this since I've had my hair cut shorter. Fish tails are similar to normal braids except you plait two sections rather than three to create a fuller, more sophisticated do. I often trail my plait down one side of my head for an asymmetrical look, if you fancy creating this hairstyle here's how I did it…
Step 1 | I started by pinning small sections back at the front of my head and securing them with hair grips. I then sectioned off my hair into two parts down the center and started braiding at the back.
Step 2 | I grabbed a small section from the right and passed it over to the left bunch, then grabbed a small amount from the left and passed it to the right. It works best if you grab from the outside and pass to the inside of each bunch.
Step 3 & 4 | I continued passing small sections from one side to another until I reached the bottom of my neck. I then moved the plait around to the front down one side of my head and carried on plaiting in the same way. I finished the braid with a bobble and teased the bottom to make it a little more messy and lived in.
I love that I can create a fish tail look again thanks to the extensions, it's such a fun and diverse do. Whether I want something different for work or a playful look on a night out, this braid looks great with any outfit.





Which look is you favourite?
I would love to hear which look you liked the best, feel free to comment below or let me know which hairstyles you would like to see me create next. I'm really enjoying being creative with my hair at the moment, it's a great way to mix up my style without having to buy a whole new outfit!
This was a collaboration post with Stranded International, I love supporting local business and have loved working with this amazing brand. They have a wide range of sizes, colours and styles so check out their website to see the full range of hair extensions and see what you can create!
Anna x
You might also like:
Save
Save
Save