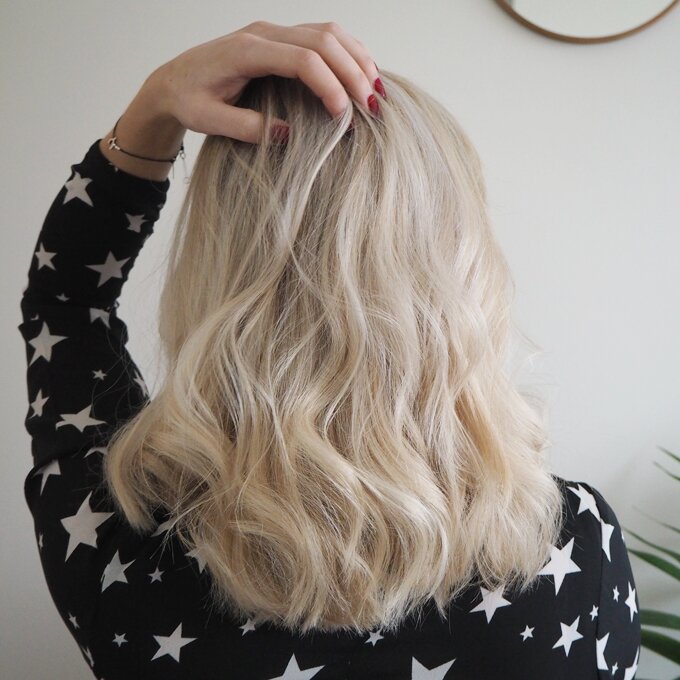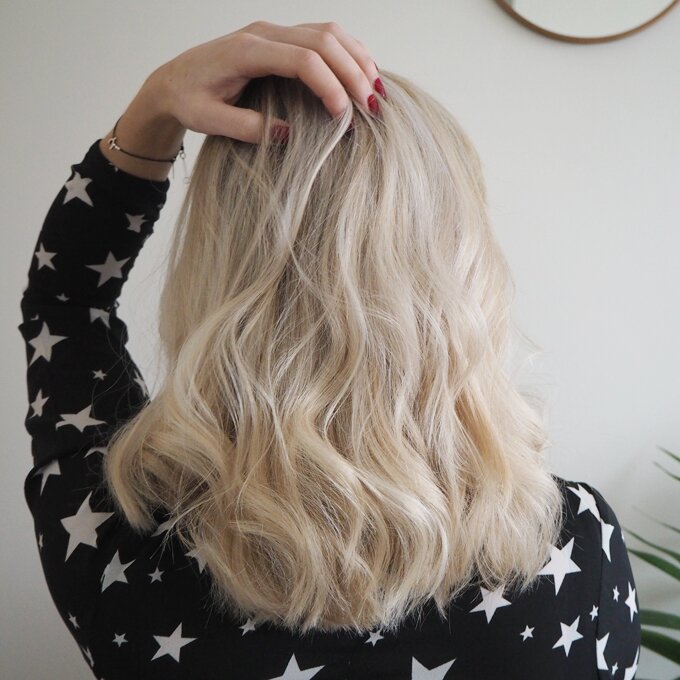 Look 1
Easy Waves
This look is super simple and easy if you want a no nonsense, low maintenance look this New Years Eve. Curls look great on short hair and are really quick to create using GHD's. I often style my hair like this if I want a quick but glam look. Here's how I created it…
I pinned up the top section of my hair whilst the GHD's were heating up then start to curl small sections. I started catching the hair between the plates close to the roots then whilst gliding the GHD's towards the tip I slowly twisted them 90 degrees to create a curl. I alternated directions throughout my hair, but made sure the front sections curled away from my face. Once the bottom section was done, I worked on the top section until each bit was curled.
To finish
I sprayed the curls with some hairspray before giving them a brush through to create a more loose, beach-wave style. To give the look a final touch, I ran a few pumps of L'Oreal Extraordinary Oil through the tips for a little added shine.






Look 2
Low Braided Bun


This second hairstyle is probably one of my favourite looks to create if I want something a little different on a night out. It's a more laid back alternative to a formal 'up-do', yet still looks amazing for any occasion. Better yet it takes less than 5 minutes to do, here's how I did it…
Starting at my parting, I sectioned off three small pieces of my fringe and started to braid them across and around my head. I grabbed small sections of hair into the braid as I went, stopping just behind my ear and securing it with a hair grip. I teased the hair over the braid to cover the clips and pulled the rest of my hair into a low bun at the bottom of my neck, securing it with a bobble and some more clips.
To finish
The best bit about this look is how messy and undone it is, so to finish off I teased and backcombed sections out to fall around my face and pulled each section of the braid to make it look a little more 'slept in'. The last thing I did was give it a little spray with some hair spray to help it stay in place.









Look 3
Braided Top Knot


This final look is probably the trickiest style out of the three to master, but well worth the effort once you get the hang of it. I love creating this look if my hair is a little greasy but still I need to look dressed up, it's a stylish take on the everyday top knot.
To create this look, I sectioned off the top part of my hair and secured with a bobble. I then tipped my head upside down and started braiding from the nape of my neck. I grabbed sections of the hair as I worked my way up towards the crown of my head. This bit takes a little getting used to, so don't worry if you have to start over a few times, I know I did.
To finish…
Once the braid was near the top section of my hair I secured it with a hair grip and then merged it into the top section by pulling the rest of my hair and the braid into a high top knot on top of my head. To finish I teased bits of hair out around my face and fiddled with the bun to make it a little messier, then used a little hair spray to secure everything in place.







And there you have it, 3 easy and fun party looks for short hair. I'd love to know which is your favourite style, comment below and let me know!
If you have enjoyed this tutorial why not check these posts out too…
Thanks for reading, and happy new year!
Anna
x
Save