Party season is here!
Christmas is my favourite time of year for fashion, everything seems to be extra sparkly and bright, and it's a great excuse to dress up for any occasion. From Christmas shopping to popping round to a friends to exchange gifts, you name it I'll arrive with glitter and stars on.
Despite that I still love to be comfy and it can sometimes be a sturggle to find the right balance. Especially for a big night out, I want an outfit that will make me feel amazing aswell as be comfortable.
So I thought I'd share two of my go to party outfits ideas that are perfect for the festive season.


Look 1
Dress, Tobi | Boots, Ego | Necklace, Topshop (similar, Asos) | Earrings, DIY tutorial here
This season I have been loving jumper dresses and this chunky, black knit offers the perfect balance between comfort and style. The amazing bell sleeves give it a little 70's retro vibe whilst adding a hint of glamour. I am all for staying warm and toasty in the winter months, so a jumper you can wear as a dress gets a big thumbs up from me. To dress it up a little (and to keep my legs warm) I've paired it with some over the knee boots. I think this sort of outfit looks amazing when I've seen my fave bloggers style it up on Instagram but I've never been brave enough give it a go. So I am using Christmas as a great excuse to rock the whole dress and knee boots combo, coz why not eh?.
As you might know already if you follow me on social, I am a big fan of accessories. They can make an outfit pop and are an easy way to add a little colour to a plain outfit like this. And I don't know a more festive colour than red!







Look 2
Velvet jacket, Tobi | Lace cami, Tobi | Jeans, Asos (similar) | Shoes, (similar, Office) | Earrings, Happiness Boutique
My second look might have to be my favourite thanks to this velvet blazer of dreams. I have gone for all black again, but layering a berry toned jacket over the top adds extra festive sparkle. I have been looking for an oversized velvet jacket like this for a while after seeing Olivia rocking one over jeans on a night out. I think they look super cool and are a great substitute for a dress if you feel most comfy in jeans. For a little added glamour I have layered a delicate lace cami under this outfit. I love this style of top but would feel a little conscious wearing it on it's own, so just having a hint showing is perfect.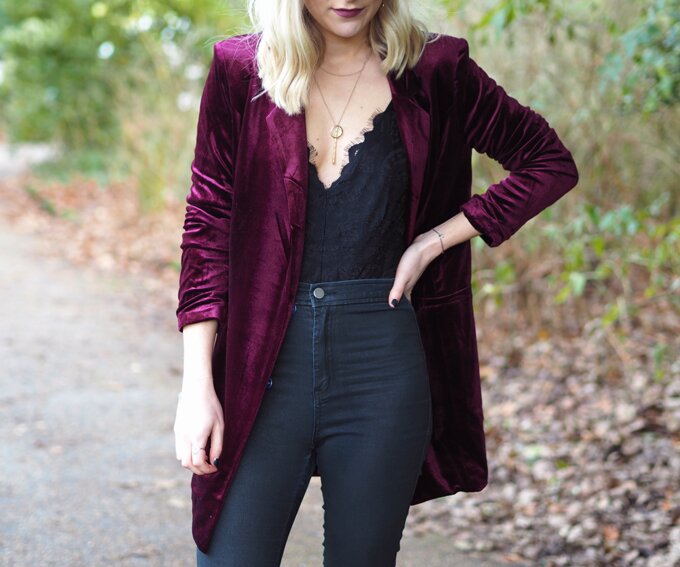 There you go guys, my two festive party looks that offer both style and comfort!
Which one is you favourite?
Weirdly I'm not going to my works Christmas party this year and I don't really have an excuse apart from the fact that I have a date with some mushy festive films and a big bag of pretzels. I did get to hang out with the WeBlogNorth girls last week for their Christmas dinner however, which gave me the chance to get dressed up in a sparkly midi, lace top and some gold accessories. Any excuse to get my sparkle on!
Anna x
This post contains gifted items and affiliate links.

Save
Save