The best bit about buying a new build is…
You can slowly add your own style to a blank canvas. There's no-one elses style to compete with, or renovations to do first, it's a chance to start fresh.
That's what I've really enjoyed about moving into this house. It's been fun to choose items that I really love and slowly add them to each room.
For the second part of the living room make over, (check out part 1 here) I wanted to fill the walls, seeing as we don't want to paint just yet (due to the drying process and being a little indecisive…), I started to look for prints that could easily add personality to the blank walls.
Wall Art Moodboard

I knew I wanted abstract, minimalist prints to tie in with the rest of the room, and simple wooden frames for a softer finish.
Having bought from Desenio before, I knew I'd find what I was looking for there, so I headed to their prints section to pick out some abstract designs. They also have a gallery wall section where I could play around with designs, sizes and frames to visualise what my finished wall would look like.
Before…


After…


Prints* – Desenio

I chose two 30×40 prints with wooden frames to go either side of two 70×50 prints in wooden frames. I kept colours neutral and shapes simple to reflect the calm feeling in the rest of the room.
I hung the pictures using Command strips, which are lifesavers for new builds as there's no need for holes and they don't mark the walls either. Perfect!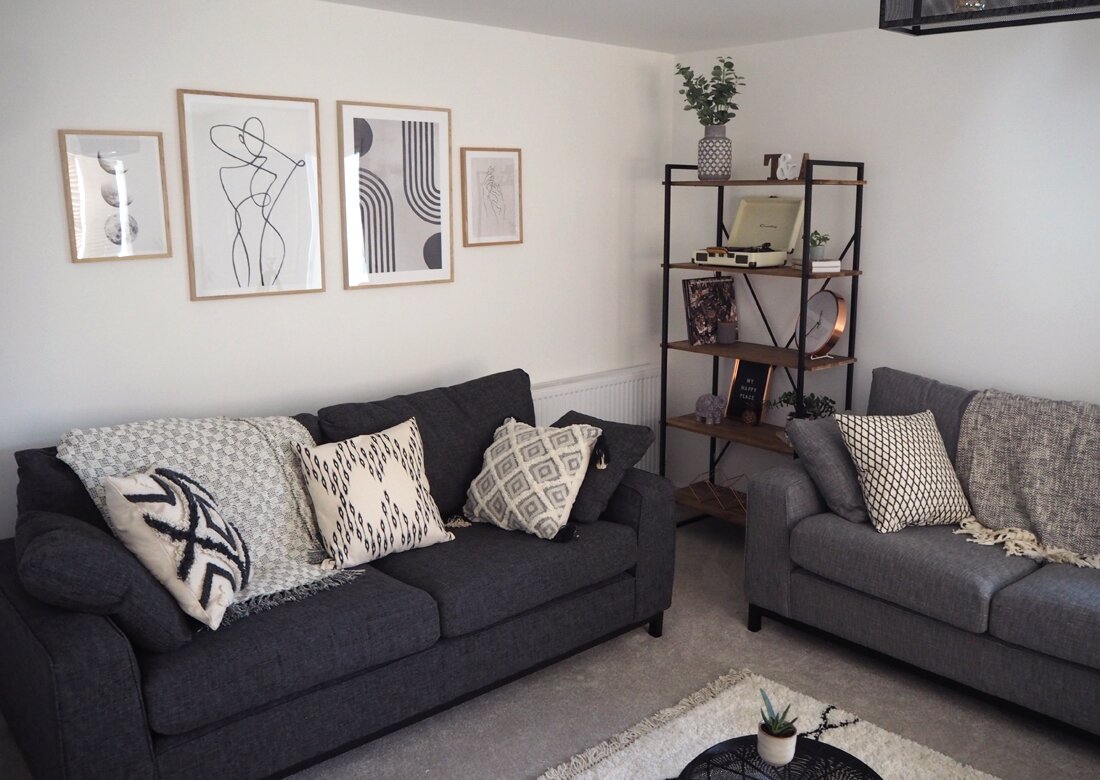 I'm super happy with our mini living room makeover so far. We will of course slowly be adding more things, painting and switching it up from time to time but for now it finally feels like a room. Don't forget to check out part one of our living room makeover which you can read here and follow me on Instagram for daily updates from my home.
Desenio are offering my readers 30% off all prints (excluding frames and handpicked/personalised prints), just enter MADEUP at the checkout from 2nd – 4th April 2020.
Hope you're all keeping safe, thank you for reading.
Anna x
Items marked * have been kindly gifted for this collaboration.