Get your craft on
What better time to discover a new craft than during a lockdown…
As you might know, or if you're new here, I love crocheting but I've never tried macrame. Wool Couture do simple craft kits for beginners, so I thought whilst we are all staying home I would learn to macrame and share it with you guys.

The Lottie Lou Macrame Kit comes with everything you need to get going, including step by step instructions and guide. Here's how I got on learning macrame …
Learning the Knots
To start I created a loop of rope through my wooded beam and attached to the metal hook which held my work in place on the edge of the table as I worked. I then cut eight long lengths of rope and attached each to the beam using a simple larks head knot as described in the guide. Macrame is all about keeping count of your yarns. So this wall hanging design consisted of 16 lengths of yarn (8 pieces folded in half), I counted 1 – 16 for each row and started again on every new row.
Square Knot
The main knot used in this design is the square knot. It took a little getting used to but, similar to crochet, but once I got comfortable with the hand movements I got into a rhythm and picked it up easily.
To create diamond shapes and gaps in the designs I had to skip yarns only knotting yarns I wanted to use.



Clove Hitch Knot
The second knot used in this design in the clove hitch knot. It creates a lovely ridge or line depending on the angle you use.
I finished the macrame wall hanging with a row of square knots then cut the remaining yarn and pulled the threads apart to create a lovely tasseled end to the piece.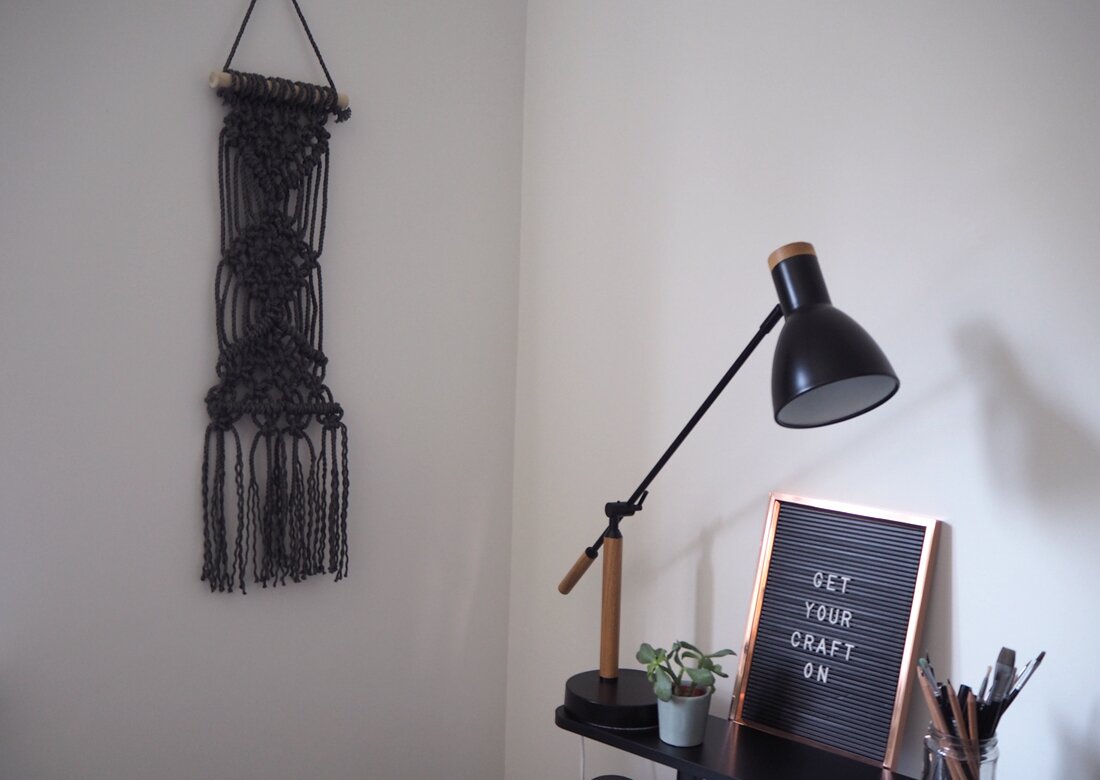 This wall hanging is going pride of place in my craft room, I hung it using an invisible Command hook which doesn't leave marks and can be easily removed. What do you think?
For me, I craft to relax, and find it can give me a sense of purpose, something that's never been more important in a time where we find ourselves isolated and at home. Learning a new craft can help you escape, take your mind of things and improve your wellbeing. So if you're looking for a project during isolation, a craft kit is a cracking place to start.
Thanks for reading,
Anna x