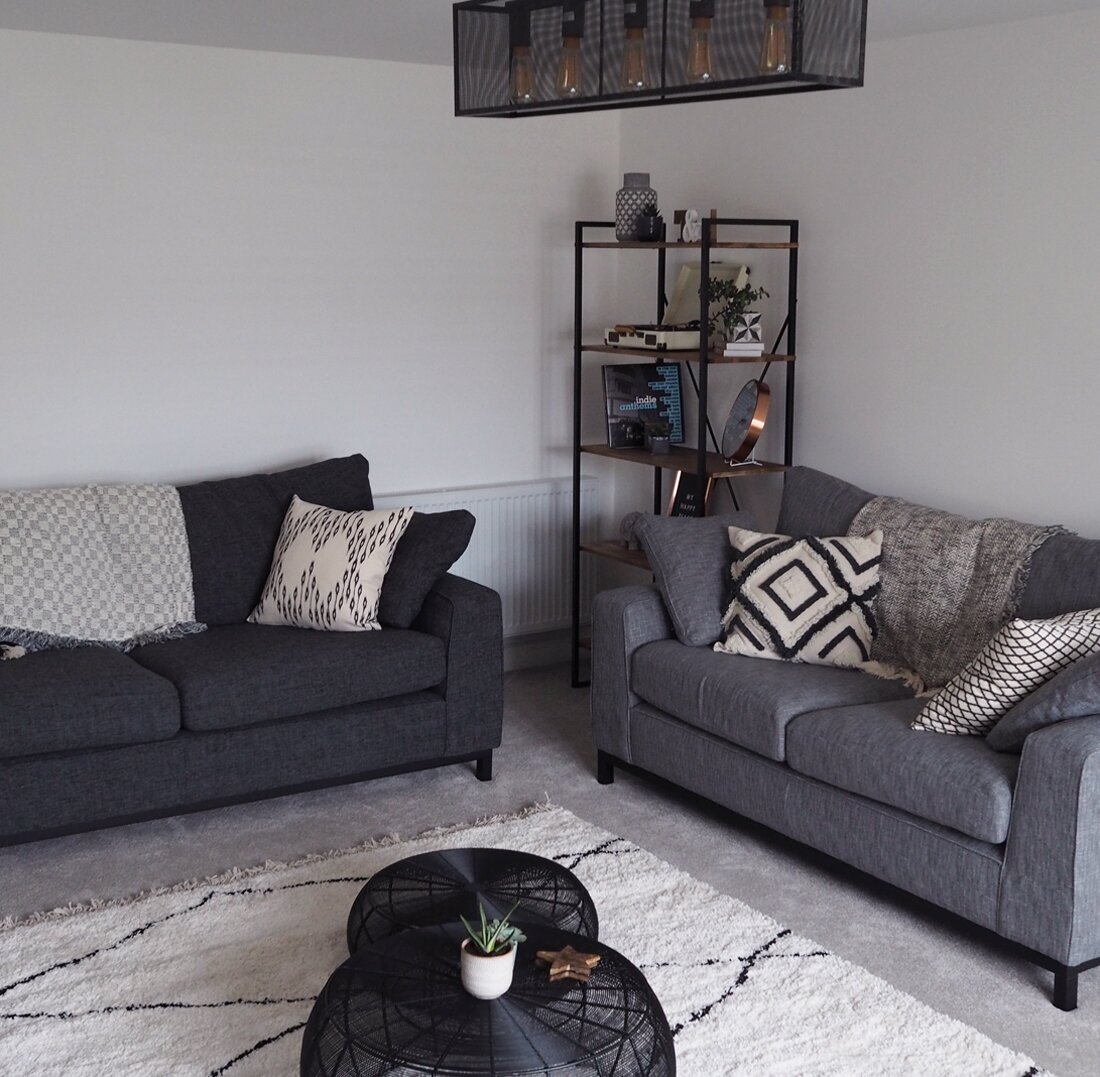 Hello again,
It's been a while hasn't it?! Nearly a year in fact, a whole, crazy year!
We finally moved to our dream house and I guess I've just taken a little time to settle in and find my feet… but I'm back and find myself in even crazier times…
Speaking to you from isolation (wtf?!) I thought I'd get back into this blogging thing to show you what Tom and I have done with the house so far. We have been in about five months now and I still can't believe this is where we live now!
One of the first rooms we wanted to get finished was the living room. It's the biggest room in the house and we were a bit baffled by it when we first moved in. Here's the first part of our living room makeover …
Before…




Sofas – Next, Chairs – Next, TV unit – Atkin and Thyme, Light – Next
Initial Moodboard

Being a new build the walls were painted white and carpet laid when we moved in, a good blank canvas to start with. After the fireplace went in, we could arrange things around that. I fell in love with this TV unit from Atkin and Thyme before we moved in so it was the first thing to take pride of place. We bought new sofas in two tonal shades then added a pop of colour with some new velvet arm chairs to frame the bay window.
Adding accessories…


Shelves – Maisons Du Monde, Cushions – H&M Home, Throws – Homesense
Over the past few months I've slowly added soft furnishings to make the room feel cosy and comfortable. I opted for large 50×50 cushions, with tassels, geometric shapes and a neutral pallet for a grown up boho feel.
The corner between the sofas was calling out to be filled and I knew I wanted some open shelves with an industrial 'loft' feel to them. These ones from Maison Du Monde fitted perfectly and meant I could style them up to match the decor.
Filling the room




Rug – La Redoute, Coffee Tables – La Redoute, Face cushion – H&M Home, Mirror – Homsense
Final Moodboard

Our next big purchase was something to fill the large expanse of carpet and bring the room together. These coffee tables were just the sort of style I was looking for and together with the rug they gave the room a laid back japandi feel.
Next up I want to add some wall art to fill the walls, and tie in with the theme. What do you think so far, I'd love to hear your thoughts.
Hope you're all keeping safe in these uncertain times, lots more interior content coming up and don't forget to follow along on Instagram for daily home posts.
Anna x