Last month marked four years of Made Up Style, but it only seems like yesterday that I hit publish on my very first blog post. Four years has flown by and yet it's only when I look back I realise how far I've come. I started blogging for a bit of fun, to express my creative side and meet like minded people, four years on I still have that same excited feeling hitting publish on a post I'm super proud of. Although my passion remains the same, blogging has changed my life in a million amazing ways. It's enabled me to explore my passion for photography, grow in confidence and self belief and has opened doors to work with amazing people I would never have had the chance to before.
Blogging has taught me many skills over the years. Although I'm still finding my feet in the online world, I thought I'd share some thoughts on the last four years and some blogging lessons I've learnt along the way…
Be yourself
It may seem obvious, but staying true to myself is one of the biggest lessons I've learnt since blogging. Social media is a huge part of the blogging community and staying connected comes with the job. I'm inspired everyday by the amazing ladies I follow online but I find it so hard not to compare myself to others sometimes. From how I look, where I live or what I do, being in the blogging world can come with it's self doubt (you can read more about my thoughts on confidence in the online world here).
I've found I'm at my most creative when I step away from it all and just focus on what I'm passionate about. Whether that's DIY, travel or a good book. This reflects in my writing too, I can tell the posts I'm really excited about as they come quickly, naturally and are genuine. Trying to fit into a mold not only stifles creativity but ultimately takes the fun out of it too. At first I thought not living in a city was a disadvantage, as I wasn't the typical 'blogger' you see on Instagram. but I've learnt to use what I have. Whether it's, taking photos around my village or showing how I style my small home. I've learnt to use what I have, turning my style and surroundings into my USP.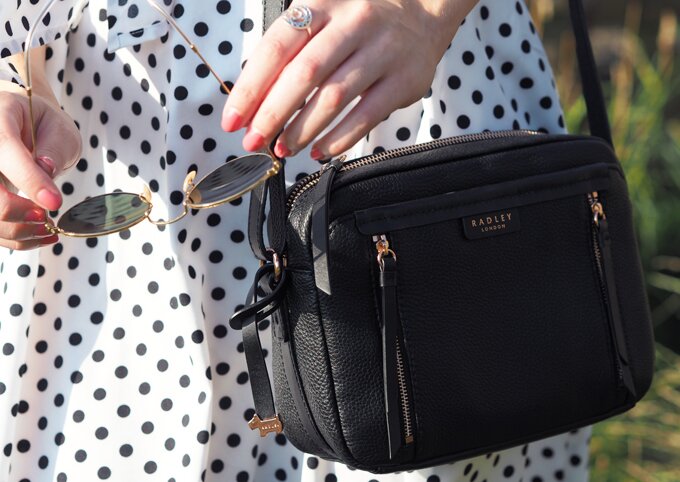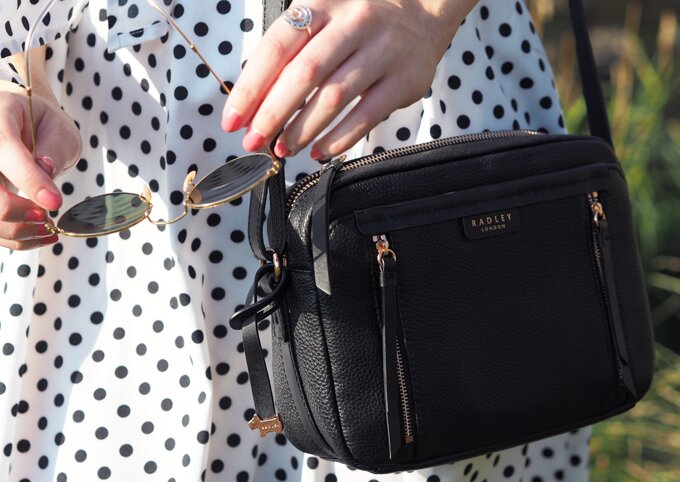 Bag, Penhurst Leather Cross Body in Black from Radley
Dress, Boohoo on Asos






2. It's OK to take a break
I recently took a few weeks off blogging and posting on Instagram as I just wasn't feeling myself. After the initial feeling of guilt, I gave myself a good talking to and accepted that I needed a break. Tom and I just put our house up for sale and among looking for a new house and working full time, I just didn't have the energy to be creative online. Instagram can sometimes feel like you are constantly trying to keep up and have to post every day. But I've learnt not to force it. Self care has become more important and if I can't post every day I don't put pressure on myself to.
Same goes to blogging, if a post doesn't feel right, I wont post it just to stick to a schedule. I now wait until I'm in the right frame of mind to write quality content. I've learnt those who enjoy reading my blog will respect that more than something that doesn't feel genuine. I used to post twice a week and although I have ideas coming out my ears to fill those days, I exhausted myself. Working 9-5 and trying to blog twice a week was hard for me. I have since been more flexible with myself and learnt that I don't need to feel guilty for not posting that often. I'd rather have a post be quality and honest than feel forced just to meet a time frame.
3. Blow your own trumpet
Being an introvert coming into the blogging world was a tricky one. At the start I was only writing for myself and a few fellow bloggers online and that kinda took the pressure of it. I soon realised I needed to promote my blog to allow it to grow and that was scary. I've never been good at blowing my own trumpet, saying 'hey, come read this cool thing I did…' felt weird but the blogging community were beyond supportive and seeing others doing similar things gave me confidence to promote my posts.
Looking back the thing I wish I had done sooner was tell the 'outside world' about my blog too. I was terrified to tell family and friends I had a blog, especially at work in fear people wouldn't 'get it' but the reaction was mainly positive. I think now more than ever bloggers, influencers and social media have become a part of everyday life, it's become more widely understood and respected.
Even now I'm constantly overwhelmed by the support from friends who say they have read my blog! I sometimes feel like I'm talking to myself but knowing others are enjoying what I write about pushes me to continue creating. I don't think I'll ever get used to compliments but I've learnt how to be proud of what I write. The feeling of knowing I've inspired my readers makes it all worth while.
4. Learn when to say no
Ok, so I'm still working on this one in real life too. A few years blogging has really helped me realise what to spend my time and energy on, both online and in everyday life. Just starting out in the blogging world, opportunities would arise that I thought I had to accept but they weren't actually beneficial to me. I've come to realise the opportunities that are worth my time and those I'm not getting much out of. I ask myself if I would buy that product or use that brand in my everyday life, considering their values and message before committing to posting about it. This comes back to lesson one, I want my blog to reflect my life in a genuine way, and if an opportunity isn't right for my blog it's better to give a polite no but thank you, than trying to force something that isn't my style.




So four years has flown by and I've learnt a lot from having my very own slice of the online world. But my biggest gain is confidence. When I started out I never predicted how much blogging would help me grow personally. From finding my own style to being proud of my skills. Blogging has helped me grow in confidence in every aspect of my life for which I am very grateful. For anyone considering starting a personal blog, I say go for it! Be creative, be yourself and don't be afraid to shout about it.
Anna
x
I am proud to work in collaboration with Radley.
Want to read more?
Simple ways to be creative everyday
Thoughts on confidence and oversharing online
Save
Save