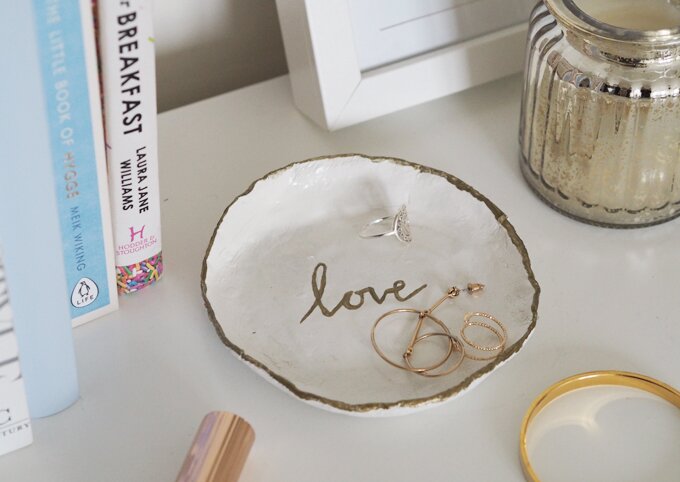 Ok, I'm just gonna say it… I'm not really a fan on Valentines day.
I know I'm probably being a grumpy old fart but it just seems a little cheesy and forced to me, please tell me I'm not alone…
Anyway, despite this it's a great day for getting crafty, and after a quick search on Pinterest I came across loads of fun DIY ideas. Over the years I have made some healthy raspberry and banana ice cream and counted down my top 5 Valentines DIY's, but this year I decided to make this easy DIY trinket dish, the perfect gift for any day, not just Valentines.
Here's how I made it…



Materials:
Paint brush
Rolling pin
To start I grabbed a handful of the air dried clay and rolled it into a ball, this was the first time I had used air dried clay and I was really impressed with how it handed. It had a dry paper pulp texture and left a soft powder in my hands rather than a sticky mess. I used a rolling pin to roll out the clay into a flat circle shape, a few centimeters thick. Once I was happy with the size and thickness, I started to turn up the edges to create a shallow bowl shape. I then let the bowl dry for just over a day until the clay was hard and white.
Top tip: The packet suggests 24 hours for every centimeter of thickness so bare this in mind when rolling out your clay.
I started to decorate the bowl using a gloss spray paint all over then a gold acrylic around the edge and for the lettering in the middle of the bowl. I did a quick google search for a nice font for the word 'Love' and use that as a template as I drew out my quote on the bowl. The paint was dry within 20 minutes and my bowl was ready to use.






And your done! The perfect trinket dish to keep everything tidy. One of my favourite interior shops at the moment is Anthropology and the gold edging of the dish reminds me very much of their style of products. I love how the clay gives a sort of rustic, uneven edging, it definitely adds to the charm of the dish.
What do you think? Have you ever used air dried clay?
I was really impressed by my first time using air dried clay, I loved how easy it was to create something beautiful and useful, I am already thinking of other things to make with it. Remember, it doesn't have to be Valentines themed, why not get imaginative and choose some lettering that is unique to you, maybe a name or a favourite quote! I am going to use my trinket dish to keep all my favourite jewellery bits in on my dressing table so they don't get lost. Check out my recent jewellery finds here.
Thanks for reading,
Anna x
You might also like:
How to refresh your bedroom on a budget
Save
Save