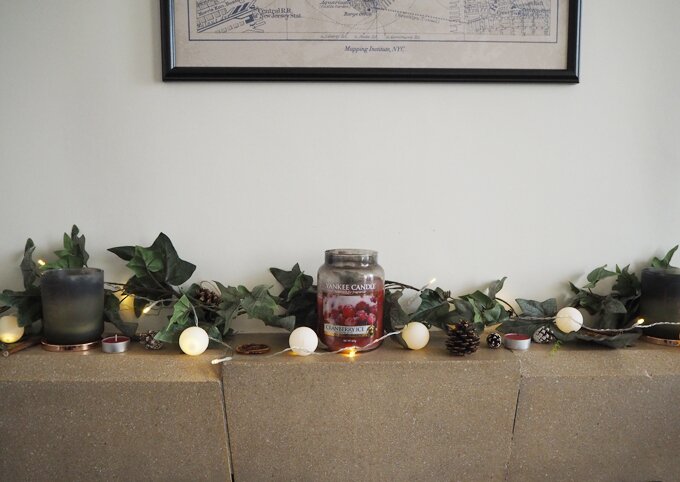 You don't have to have a tree to feel festive, why not add a little sparkle to your fireplace instead?
For day 8 of my #12daysofDIY challenge, I thought I'd bring you something a little different and share my tips for decorating my fireplace. Since we moved into our house together a few years ago, myself and Tom have always got really excited about decorating for Christmas. We have a tree which we decorate but also love making a feature of our old fireplace too.
Here's how I decorated me fireplace this Christmas…
I have bought a few bits over the years as well as made others, I got a big ivy wreath from a local florist for about £8 but have seen similar in the Range for less. It's just the right length and thickness to place along the top of the fireplace, so I started by adding this first, then built other decorations around this. This year I jazzed up a string of fairy lights by adding some ping pong balls to them as part of my #12daysofDIY challenge. These look, great on the fireplace, woven in between the ivy wreath, if you would like to see how I made them, click here.
The good thing about these lights is that they are battery operated, which means I don't have to plug them in and see an ugly wire hanging down, I can hide the battery pack among the leaves and switch them on easily whenever I need to.





Ivy wreath, The Range
Ping Pong fairy lights, tutorial here.
Pot pourri, Sainsburys Home
To add a little fragrance to my mantel piece this winter, I dotted a bit of pot pourri from Sainsburys along the top of my fireplace, which not only smell amazing but look super festive. The rest I left in a star bowl at the bottom of my fireplace to make the room smell even more Christmassy. For the finishing touches I added some winter berry scented candles to add a little warming atmosphere to the room and fireplace. I love candles around the home in winter, they can make a room feel extra cosy, not mention smell divine.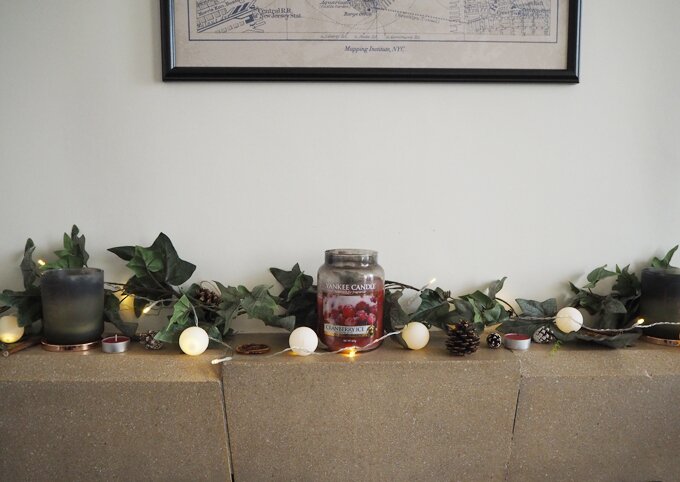 All that's left to do is switch on the lights and light the candles when I come home. There is something really satisfying about coming home after work and switching on the christmas lights and making the room feel cosy, I love winter for evenings like that.
What's you favourite thing about winter?
I am very grateful to be able to snuggle up warm after a long day at work, many people across the UK don't have a warm or safe home to go to. Throughout my challenge I am raising awareness and money for a charity that helps support those less fortunate, Shelter. It's is an amazing cause which I wanted to do my bit to help, so if you have enjoyed reading any of my posts through out these #12daysofDIY and would like to donate, even if it is the price of a cup of coffee, head over to my Just Giving page to find out more.

Thank you for reading, don't forget to check out the full list of my DIY's in my festive countdown challenge here.
Anna x