I can't believe we are coming to the last few days of my #12daysofDIY challenge, it's been so fun and I have loved sharing some festive makes with you guys. Today I thought I'd show you a DIY to get you ready for the party season. I can't get enough of star and moon prints this season and this embellished bag is bang on trend.
I picked up this plain blue clutch bag in the Miss Selfridge sale a few weeks back, and although I loved the bright blue colour I thought it could do with a little glitz and glamour. To decorate my plain bag I headed to the Range again and found these metal beads in gold and silver which were perfect for what I wanted.


Bag, Miss Selfridge
Beads, The Range
Glue gun, Hobby Craft
To start I planned out where I wanted my beads to sit on my bag and took a quick snap on my phone so I could remember the order. To decorate my bag, I heated up my glue gun and dotted a small amount onto the back of one of the beads, before putting it in place.
I found putting a small amount of glue in the center of the bead worked better than using a lot, as the glue spread out once I pressed it down. I carried on gluing my beads in place until I was happy with the order. For the final finishing touch I added some gems in between the beads, from a pack I bought in The Range too.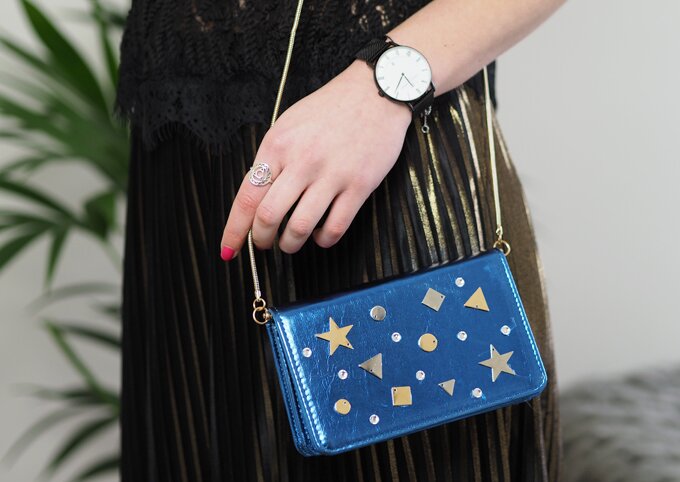 The best bit about using a hot glue gun is that the beads are stuck within a few minutes, there's no need to allow them to dry, so you can do this DIY 5 minutes before a night out and you are ready to go. Perfect!
As you may or may not know I set myself the challenge to post a DIY everyday for 12 days in December to help raise awareness and money for a very important charity, Shelter. They do an amazing job to help those without secure homes or living on the streets during the winter months. I always feel so fortunate around this time of year as I know others aren't as lucky, so that's why I am doing a small bit to help this year. If you would like to read more and see the full list of DIY's click here, or if you would like to help too, click the button below.


Thank you to all who have donated so far, you are all super stars!
Anna x
Save
Save