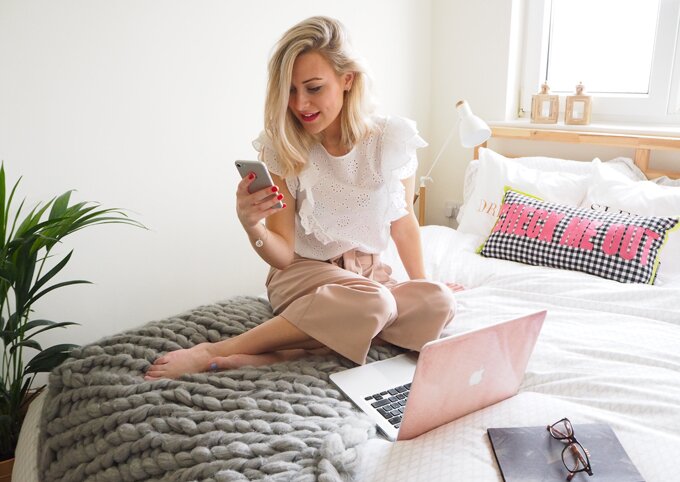 The problem with being a creative soul, is you are never satisfied. There is always something you want to make, more you want do, places you want to see.
I am constantly looking for inspiration, and soaking it up, but it can often become counter productive, as I find myself wanting to do it all. This is where it becomes overwhelming.
As a blogger there are so many influences in everyday life and on social media I find myself comparing my blog to others despite them being very different. I would see a beautifully poised street styled image and ask why aren't I making content like that? When in fact that blogger might be far more established and been doing it for years, yet I would forget this and then question whether my own content was good enough.
More and more recently I found this way of thinking was starting to have a negative affect on my blog, I had all these (often unrealistic) ideas and dreams but couldn't execute them, I had no clear direction or goal and felt a little lost.
I needed a fresh start.
At the beginning of June I headed off to California for two weeks for a trip of a lifetime with Tom. It was the perfect time to take a break, forget the pressure and be re-inspired with my blog again. During my trip I listened to an audio book called Essentialism by Greg Mckeown. It was an eye opener (or ear opener) and just what I needed to hear to help me get my blogging mojo back.
The book talks about finding one thing you are good at and focusing on that. Forget trying to please everyone and cover all areas, just do one thing and do it well. This is were I was struggling. I have always wanted to do it all and at once, the book made me realise I was thinking too big and unrealistically. I needed to make it simpler and smaller to achieve bigger things in the long run.
Feeling inspired I started to ask myself some questions to really understand what I wanted from my blog and establish a main goal. Why did I start my blog in the first place? What do I do best? Why do people read my blogs?

I started my blog over three years ago to record, express and showcase my crafts but also push myself to learn something new. It gave me reason to make something or try a new craft, whether it was upcycling and old jumper or learning to crochet. I used it as little diary of my creative journey. I looked back and remembered the achievements and comments that have stuck in my mind and the majority were about the things I had made. I remembered feeling a warm glow inside after someone had said they liked my latest DIY or been inspired to create something of their own.
Just like that, I had my goal. I had my niche. I realised I was and always have been, a DIY blogger, above all. Although a small realisation, it was this straightforward way of thinking I needed to help stop myself comparing my blog to others. I still look at those street styles images with envy, but don't feel a need to recreate them as I know that isn't my niche. I can now focus on the content I love and enjoy creating it without worrying that I am not covering everything or not doing what others are doing. Yes, I can still create content like that if I am feeling inspired but the pressure I put on myself isn't there any more, I have realised I don't have to be like everyone else. Best of all whenever I am feeling overwhelmed I can refocus back to my niche and know which content is the most important.
So here's to a new way of thinking.
I have a new way of thinking and a new blog layout to celebrate. I have switched over to WordPress with the help of Pipdig, who made the transition from Blogger smooth and easy, and I am loving having more control over my layout and posts. I am finally feeling inspired again.
So what is in store for Made Up Style? Well you can be sure to see lots more DIY posts in the future as well as travel diaries and anything else that takes my fancy. I really want to make my blog a place to come to be inspired and get creative. You are also going to see a lot more of me too. I love reading other blogs and feeling like I know that blogger personally as they share snippets of their lives. So here's to getting to know each other better!
I can't wait to get cracking!
Anna
Save
Save
Save