New Year, new resolutions?
Last year my new years resolution was to turn my hobby into something more by selling my handmade makes on Etsy.
Etsy is an international market place for anyone to sell handmade, vintage or craft items. It allows your makes to be exposed to buyers interested in the beauty of handmade and provides support and tips via the Etsy blog.
I opened my shop in April and although I was nervous at first I loved the thrill I got when my first item sold! A year on I am so glad I did it as not only does it give me a purpose and allows me to spend my spare time doing something I love, but it has grown my confidence and self belief too! If you are thinking about setting up an Etsy store, GO FOR IT! You have nothing to lose and honestly I think it was one of the best things I did last year.
Here are my top tips & a step by step guide to setting up an Etsy store…
What you need to know before setting up an Etsy shop…
Pricing …
Etsy exposes your handmade items to thousands of buyers around the world each day, in return for hosting they take a small percentage from sold items. It cost $0.20 (about 13p if in the UK) to list an item, then they only take 3.5% of the price sold after you have sold something. For more in depth info on pricing follow this link…

How to Set up an Etsy Store…
Sign into Etsy or register as a new user to start. Then find the Sell on Etsy button the top of the page and start setting up your shop. The first step is to set your shop preferences and country origin etc, and easy but important bit. Once you have done this part, click save and continue.
Next is the fun part… naming you shop!
If you have already thought of a name or have a brand identity (through a blog for example) go for it, but if you need a little help check out Etsy's guide here. The main thing to remember before naming your shop is to create a visual image and a quick summary of what you sell in the name. If you sell indie, bohemian goodies, use words that reflect that or create a picture eg. Boho Sunset Jewellery. Just have a browse on Etsy at shop names that sell similar items to gain inspiration, but remember be unique.
After you have typed in your name you can see whether the name is available before moving on. Remember you can always change this later on so don't panic.
Now it's time to add a listing (aka item to sell) to your shop. Here you will have to have images ready to upload along with all the info about your product you want to sell.

Uploading a photo…
Edit your photo to make sure it is about 1000 pixels wide (minimum is 570 pixels) as this will ensure your photos look their best. I use Photoshop for this but you can use free tools like PicMonkey online. Buyers respond to clean, bright and clear imagery of the product they want to buy so keep this in mind when photographing.
You can add up to five photos for each product you sell, so try to tell the buyer as much as you can about the product in these five photos, such as the back angles, close ups of any pattern or photos of someone wearing it.
After that you can fill in the products information below. Give it an eye catching, searchable title with lots of information along with price and a more in depth description.
Shipping…
Below the description box is where you can decide on shipping costs. I worked out how much my items would cost to post using the Post Office price finder this allows you to type in the rough weight and size of the parcel to work out the cost to post. You have the option to allow international posting in this section too, just click the cross next to 'Everywhere' if you don't want to sell internationally.
Save and continue onto the next screen to add more listings in the same way or just skip to the billing area.
Getting paid..
.
Next step is to let Etsy know how you would like to be paid, all you need for this is details of the bank account you want the money to go into. There is more detailed information about payments methods here. I chose 'Direct Checkout' as this gave me the most options for myself and buyers.
Once you have followed the steps to set up and confirm your bank account you can open your shop and start sharing your creations with the world!
YAY!
Adding information…
Once
you have opened your shop, you can add a profile photo and shop story
about how or why you started, all these little things make your shop
more friendly and relatable to potential buyers.
Use your shop icon at the top to edit information after you have opened you shop.
Quickly navigate using the 'Dashboard' to view stats and shop views. Or manage your listings by clicking 'Listings' and then 'Listing Manager'.
Promotion…
Make a badge for you shop to post on your blog or website by clicking on 'Promote' then 'Etsy Badges'. Here's mine…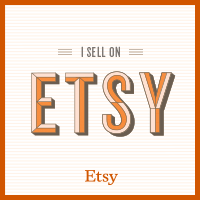 You never know who might like to buy your products so its good get out there and promote your shop via social media. I use Twitter and Instagram to showcase my makes and notice a jump in views whenever I tweet a link or photo, so it really does work! I am going to write another post focusing more in depth about how to promote and market your handmade shop, so keep your eyes peeled.
I downloaded the Sell on Etsy app which is great for managing my shop on the go. I can view conversations with buyers and see how many people viewed my shop that day.
Almost a year on I am still learning about being an Etsy store owner and although haven't had much time to make new items recently, I hope to list some more come spring. I have learnt a lot in the past year but most of all is to be brave and put myself out there even when I felt a little self conscious. Before last year I would never have had the confidence to shout about what I have made or even post pictures of them but I have learnt to be proud of them and not to put myself down so much. Selling items made me realise that people actually like what I make and appriecate the time and effort involved, which is the best feeling in the world!
So why not turn your passion into a business and start selling on Etsy as your new years resolution this year, you wont regret it.
Happy New Year Everyone,
thank you again for you continued support and if you are thinking of setting up an online store, GOOD LUCK!
Anna
x