Yep, it's official, the Christmas shopping has started…
I love Christmas shopping, especially for close family and friends, finding that one gift that sums them up perfectly and I know they will love just makes my day. I it harder asking for things for myself, sure I can think of a hundred and one odd bits but chances are I don't actually need half of them. This got me thinking about my current wardrobe and what's missing, instead asking for useful gifts that I'll actually wear and will stand the test of time. So I thought I would share some of my recent winter wardrobe additions and key pieces I am loving recently, as well as show you how I style them.
If like me you love finding that perfect gift, check out Jack Wills Christmas Gift sets for so many helpful suggestions and useful gifts that will last longer than the just Christmas period.


Everyday Comfort
When it comes to winter outfits, being comfy is top of the list for me. With cold, dark mornings ahead I just want to wrap up in big jumpers and cosy leggings, the thought of putting jeans on makes me wanna cry, tbh. One of my favourite recent purchases is a pair of high-waisted, checked pants that are both comfy and stylish, making them the perfect replacement to jeans in the winter. I'll definitely be investing in more trousers like these in the future and have my eye on an amazing velvet pair from ASOS that might just have to be added to the list. Winter and knitwear go hand in hand and I have fallen in love with my chunky cable knit jumper from Topshop recently. It's super soft and goes with anything from midi skirts to dungarees, I'd wear it everyday if I could. I think there is a gap in my wardrobe for an oversized jumper I could wear with long boots and a belt, maybe in an on trend bright red.
Party Season Pieces
With party season approaching I have been looking at what dressier items I own, and I gotta say it's a bit sparse. I love jumpsuits as they are easy to throw on and super comfy, so I tend to whip one of those out when it comes to parties. I have recently been mixing it up with a pretty lace t-shirt underneath a strappy black jumpsuit, making it a little warmer for winter. This kinda top also goes with some old favourites like my gold midi skirt, which I always bring out around this time of year. And you can't go wrong with a bit of metallic at Christmas can you?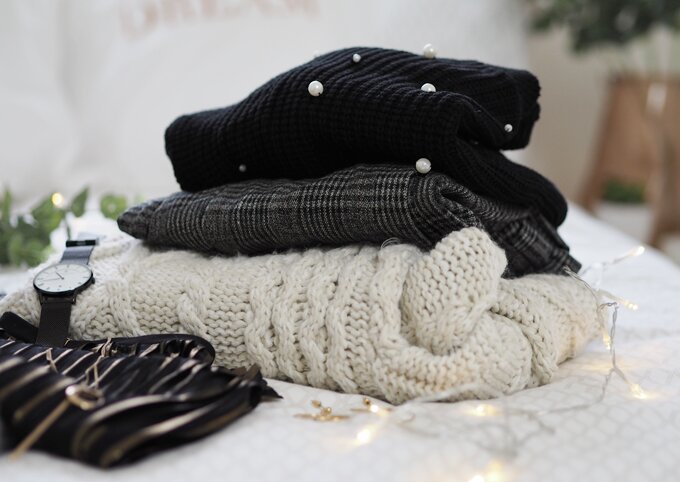 Winter Warmer Coats
I am a sucker for a winter coat, it's probably the most well stocked section of my wardrobe. This year I bought a new black biker jacket to replace my old one I had since I was sixteen, and it's a great addition to the ever growing collection. I love layering it up with jumpers and dresses plus it looks cool thrown over a jumpsuit on a night out. My aviator jacket (is that what they are called?) is another one I have revived for this winter, it's a little less dressy making it great of frosty walks at the weekend and more casual days. I have a good selection of coats and jackets, each a little different meaning I get use out of all of them at different times. Investing in key items like this means you can pull out old favourites year on year and fall back in love with them all over again.



Key Accessories
I am a big believer in finishing off an outfit with key accessories. From bags to earrings, I am always looking to refresh my accessories. My favourite pieces lately are gold necklaces and statement hoop earrings. You can't go wrong with gold accessories and I am loving the recent trend to layer up necklaces over jumpers and t-shirts.
So there you have it, a little over view of my favourite purchases and winter wardrobe essentials. Thanks for reading and basically helping me figure out what to ask for on my Christmas list!
If you like the look of the beaded black jumper in this post btw, I made it! And you can too, I will be writing a tutorial for you follow and to make your own in a few weeks! Make sure you check back then or follow me on Twitter and Instagram in the meantime!
Anna x
This is a paid post, however all opinions are my own.
Save
Save
Save
Save
Save