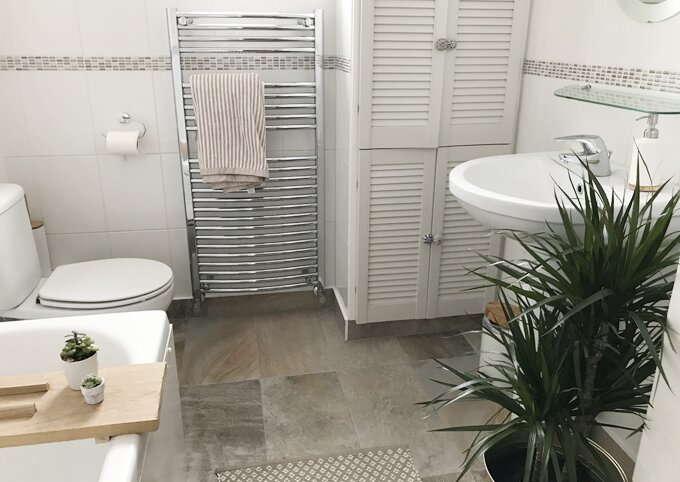 This month marks two years since we moved into our first home and I still can't believe how much we have achieved in that time.
Check out my home tour from when we first moved in…
Like most of the house, the bathroom was a little dated when we first moved in, but we couldn't afford to strip it out completely, so instead we have slowly updated smaller areas over the last year or so. Despite not actually getting a new suite, the little changes we have made make it feel like a whole new room, and the latest update might just be my favourite. I decided to give our old bathroom cabinets a revamp with a little help from Rinkit, here's how I did it…







The doors had old gold handles on them, but I really wanted to update them to something a little more modern and fun, these Rinkit door knobs where perfect.




The wood and hinges on the cabinets were very old but with a little care and help for Tom I managed to take the doors off without damaging them. We decided to keep the old fittings such as hinges and screws as it would be easier to reapply the doors after painting. Once all the doors were off, I sanded down each one using a mixture of hard and medium sand paper texture to remove any left over surface varnish. Then using a damp cloth, I wiped them down and left them to dry over night.
I used Farrow and Ball's Estate Eggshell in the shade 'Ammonite' to paint the doors, as a modern alternative to pure white.
Farrow and Ball paint isn't the cheapest but I find it worth every penny as it's so thick and applies like a dream. I only needed two coats of the Ammonite shade to fully cover the doors and used around two thirds of a 750ml tin.


If you like this planter, see how I made it here.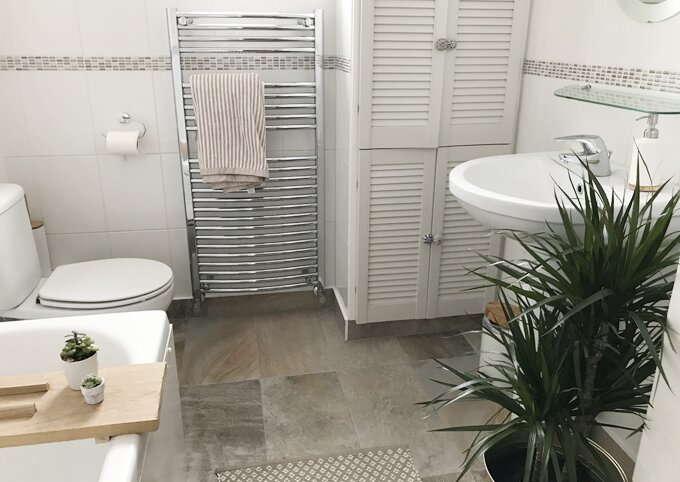 Top tip: If you are painting a cabinet like mine, note down the positioning of each door somewhere you aren't going to paint, before you take them off the hinges. This way you won't get mixed up when you come to put them back on again.
After the doors had dried fully, I replaced the old gold door knobs with my new Rinkit ones, mixing up the shapes and patterns on each door, before screwing the doors back on their hinges with help from Tom. I am really happy with how the new doors and handles look, the modern grey paint makes the room feel much more spacious and the door knobs add that extra finishing touch to the cabinet.
The bathroom feels like a completely new room from when we bought the house, all that's left to do is replace the old mirror and glass shelf above the sink as it's looking a little tired. If you have any suggestions of places to buy beautiful mirrors please feel free to leave a comment below, I love hearing about your favourite homeware finds.
A big thank you to Rinkit.com for gifting me these gorgeous door knobs and helping me revamp my bathroom, if you want to see my bedroom makeover with Rinkit click here.

Anna x
Save
Save
Save
Save